First things first, we embarked on a quest to capture the essence of their love amidst the ancient walls of a Goan fort. The majestic backdrop echoed the timeless love shared by Sanket and Komal, adding a touch of grandeur to their pre-wedding shoot. Against the rugged stone walls, their affectionate glances and laughter filled the air, making every click a celebration of their joyous bond.
As we ventured further, the scenic roads of Goa beckoned us. The winding paths, fringed with lush greenery, seemed to symbolise the winding journey of love that Sanket and Komal were embarking upon. Embraced in each other's arms, they posed like they were the only souls in the world, creating memories that will forever adorn their hearts.
But our exploration of Goa's charm did not stop there! We couldn't resist the allure of the vibrant shopping streets, where Sanket and Komal showcased their playful side. Amidst colorful shops and bustling alleys, they shared joyous moments and exchanged laughter, reminding us all that love is about cherishing the simplest of joys life has to offer.
Next on our adventure was the glorious Goan beach. As the sun dipped towards the horizon, casting a warm, golden glow, we witnessed moments of pure magic. Sanket and Komal strolled hand in hand, leaving their footprints in the sand as the waves gently kissed their feet. Each shot encapsulated the serenity and intimacy shared between the two, creating frames that would stand the test of time.
And then came the pièce de résistance - the bonfire! With the stars shining brightly overhead, Sanket and Komal's love ignited the night. The crackling flames mirrored their passion, and the warm glow embraced their love like an everlasting promise. Capturing their candid happiness around the bonfire was an experience that left us all spellbound.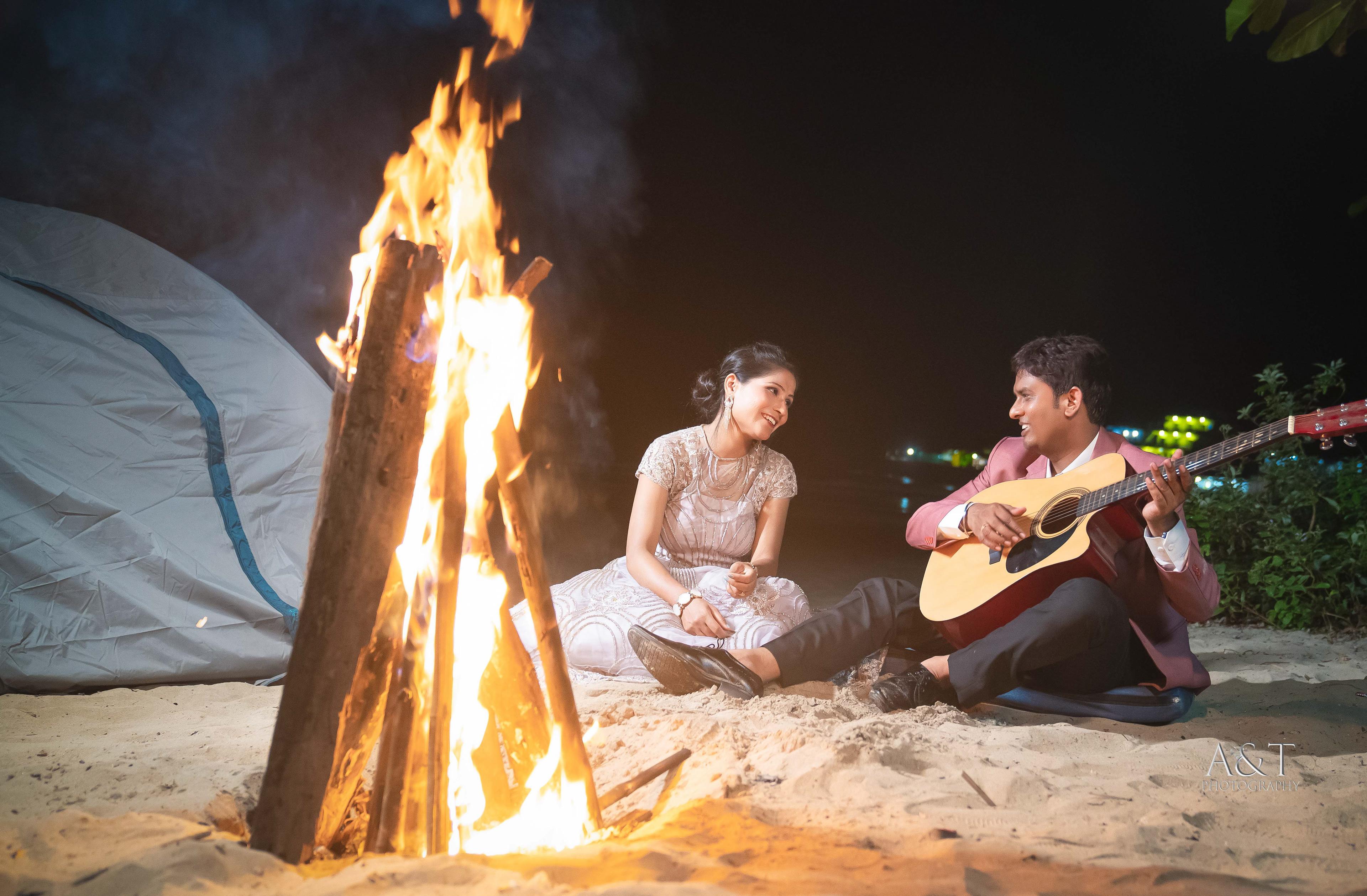 Through these diverse locations, we crafted a story of love that encapsulates the spirit of Goa itself - a perfect blend of history, beauty, and celebration. Sanket and Komal's pre-wedding shoot stands as a testament to the magic that love can create, regardless of the surroundings.
As I sign off, dear reader, I hope this tale of love has left you with a sense of awe and wonder. Remember, love knows no bounds and thrives in the most unexpected places. Until we meet again to share more heartwarming stories, keep celebrating love, just like Sanket and Komal did on the shores of Goa!
With love,
Tilottama -Founder of A&T Photography
Your Wedding Photographer in Goa <3