Santosh and Mansavi's Pre-wedding Shoot Was Nothing But a Sophisticated Saga of Love and Romance.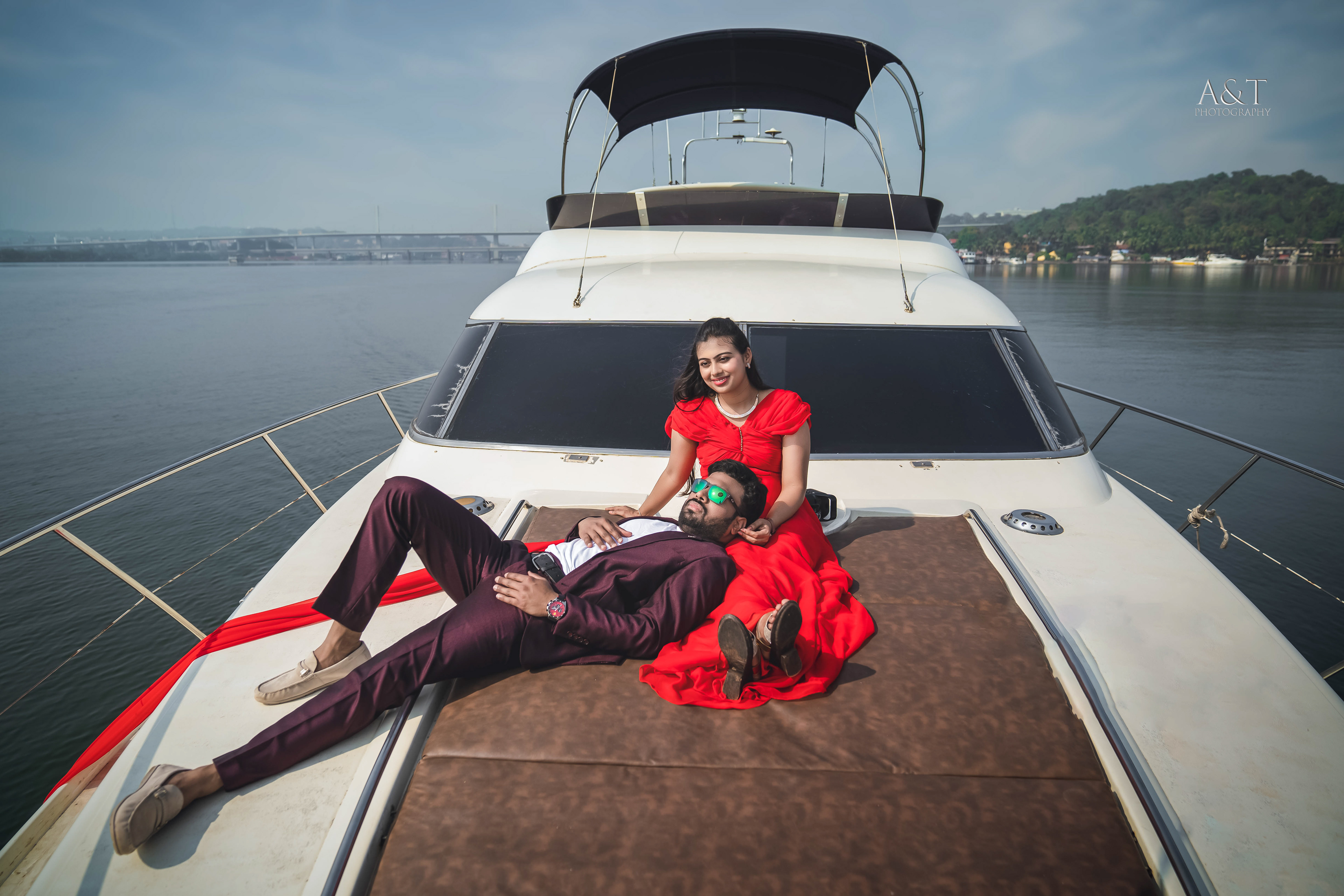 The prewedding photoshoot was a dream come true for Santosh & Manashwini, who had always envisioned a romantic and intimate shoot that captured the essence of their love. They chose a variety of outfits for the shoot, ranging from elegant sarees to casual beachwear, and each look was perfectly complemented by the stunning natural beauty of Goa.
The beautiful beaches of Goa provided the perfect canvas for Santosh and Manasvi's love story. Rhythmic waves, colourful hues of nature, and sun-kissed shores made a perfect frame for pre-wedding shoot of Santosh and Manasvi.  The natural beauty of the beach complemented the couple's elegance, allowing their love to shine with unparalleled radiance.
Manasvi's choice of a beautiful blue saree lent an air of mystery and depth to the shoot. The flowing fabric danced with the wind, encapsulating Manasvi's grace and elegance as she strolled along the water's edge hand in hand with Santosh. Manasvi's choice of a beautiful blue saree exuded an aura of timeless femininity.
Candid Pre-wedding Photography is an art and it lies in capturing candid moments that reflect the couple's true essence.  Santosh and Manasvi's unscripted interactions was warm and so natural hence it created beautiful candid moments and cinematic footages.  
The chemistry between Santosh and Manasvi was so natural that cinematographers got beautiful candid reels for their pre-wedding shoot. Symphony between nature, couple and photographer/cinematographer plays important role for perfect results. 
The couple worked with a talented photographer and videographer, who captured all the special moments of their shoot. Some of the highlights included a sunset photoshoot on the beach, a romantic stroll through a lush green forest, and a playful session on a traditional Goan boat. The result was a breathtaking collection of images that perfectly captured the couple's love and joy.
But the prewedding photoshoot was just the beginning. Santosh & Manashwini also created a beautiful prewedding video that showcased their love story in a unique and creative way. The video included special effects, music, and heartfelt messages that truly touched the hearts of everyone who watched it.
Behind the scenes, Santosh & Manashwini put in a lot of effort to make their prewedding shoot and video a success. They spent weeks preparing their outfits and choosing the perfect locations, and they faced a few challenges along the way, including some unpredictable weather and unexpected crowds at some of the shoot locations. But they never gave up, and their determination and love for each other shone through in every moment.
In the end, Santosh & Manashwini's prewedding photoshoot and video in Goa was an unforgettable experience that will always hold a special place in their hearts. They proved that with a little bit of planning, creativity, and love, anything is possible.
In the captivating land of Goa, renowned for its breathtaking landscapes and coastal charm, Santosh and Manasvi's prewedding love story came to life. Surrounded by pristine beaches and the ever-changing hues of the sea, their journey of love began with a sense of tranquility and natural beauty. 

Note: We are best Destination Wedding and Pre-wedding photographers in India and we have immense experience of photography in Goa. If you are looking for destination wedding/pre-wedding photographer for your Goa shoot the connect with us!